The Great Sand Dunes

Colorado's Unmatched and Diverse Beauty  Embodied at Great Sand Dunes National Park and Preserve
by Nicole Cormier
When people think of the Great Sand Dunes, most only think of the sand formed dunes and scorching temperatures, but Great Sand Dunes National Park and Preserve in Southern Colorado offers that and so much more. From Wetlands, to grassy meadows, to waterfalls to a variety of wildlife, there is so much to see and experience while visiting this natural wonder.
When planning a visit to the Great Sand Dunes, first decide whether you want to stay within the park, or travel in. There are three campgrounds in the National Park, two of which accommodate recreation vehicles. Ranging from $20 to $80, sleeping under the stars is quite affordable. If outdoor living is not quite your style, there are several motels just outside of the park, in the nearest city, Alamosa.
Once you enter the Great Sand Dunes National Park and Preserve be sure to stop in at the Visitor Center. Here you'll find a plethora of information about the park to guide your journey. Catch an informative video, explore the interactive exhibits, engage a park ranger in a lively conversation or maybe borrow the dunes-accessible wheelchair so everyone can participate. Keep in mind that the park's elevation ranges from 8,000 to over 13,000 feet, which allows for some great hiking, and also potential altitude sickness, so drink plenty of water and take periodic breaks as you explore.
The dunefield, as they call it, is 30 square miles and boasts peaks as high as 700 feet. Hiking up and through the dunes is unlike trekking through any other terrain, but is rewarding in both views and excitement. Rather than simply descending on foot, many dunes visitors opt to sand board or sled down the sandy slides. Consider renting a sled or board at one of the nearby retailers just outside the park.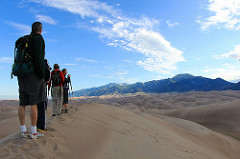 It is advised, especially in the summer months to only hike the dunes in the morning or evening, as sand temperatures can reach up to150 degrees. There are several ways to cool down after exploring the sandy peaks that will allow you to explore Southern Colorado's natural beauty. Medano Creek, at the base of the dunes is a seasonal creek and an ideal way to bring your temperature down while playing in the cool water. Take notice of the unusual waves, or surge flow which is a unique hydraulic phenomenon.
When you're looking to keep the adventure going, there are many hiking trails in the area that explore some of the areas other unique terrain. The nicely shaded Montville Nature Trail winds through the forest through an old 19th century settlement. Enjoy a picnic near the summit to enjoy views of the dunes and surrounding area. For a more intense hike, there are several trails within the park in varying difficulty to satisfy any kind of adventurer. Other recreation options allowed in the park include horseback riding, seasonal hunting, and ATVs in designated areas.
The unmatched beauty of the Great Sand Dunes National Park and Preserve cannot be found anywhere else in the world and any Colorado visitor or resident should experience it at least once in their lifetime.
Cheat Sheet:
Fees: $3 per adult (16 +) or $15 for annual family pass
Visitor Center Hours: Winter 9-4:30; Summer 8:30-6
Wildlife: amphibians (salamanders, frogs), birds, fish, insects, spiders, mammals (pica, bison, big horned sheep, bears and more), lizards and snakes.
Beware: high temperatures, high elevations, thunderstorms and wildlife.
Leashed pets welcome
Website: www.nps.gov/grsa